Posts by Dr Angela Hamblin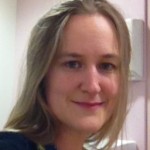 Dr Angela Hamblin is currently working as a Molecular Diagnostic Research Fellow with Prof Anna Schuh in the Oxford Molecular Diagnostics Centre. She trained in medicine at Oxford University Medical School and undertook a PhD in Cancer Immunotherapy with Prof Martin Glennie and Prof Peter Johnson in the Cancer Sciences Division, University of Southampton.
She is completing a Specialist Registrar rotation in Haematology in the Oxford Deanery. Dr Hamblin is particularly interested in the translation of next generation sequencing techniques from research into routine clinical practice for patients with (particularly haematological) malignancies in order to improve patient outcomes.