Posts by Dr Bal Sidhu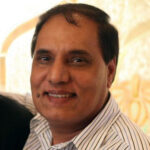 Dr Bal Sidhu has been working in General Practice in Nuneaton, Warwickshire since 1988. He specialises in care for the elderly and owns care homes in local areas. He has been involved in charity work within the South Asian communities, including a campaign about drug awareness and the Gujarat Earthquake appeals.
He has a passion for Punjabi music and has written over 80 songs, including 'Rail Gaddi' which has been played at Asian parties and events for the last 35 years and featured in the Bend it Like Beckham soundtrack.