Posts by Dr Becki Taylor-Smith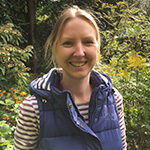 Dr Becki Taylor-Smith has joined the Chief Sustainability Officers' Clinical Fellow scheme for 2021-2. She is a medical doctor, specialising in anaesthesia. She has an interest in empowering clinicians to make change and engage their policy makers. She founded and continues to chair the Green Anaesthesia and Intensive Care Network in the West Midlands (GAIN-WM).
Becki will be working with the Greener NHS team and transformation directorate to support integrating net zero carbon principles into transformation of care and helping the NHS to reach its ambitious net zero target.