Posts by Dr Dawn Moody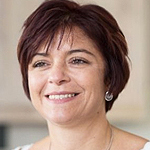 Associate National Clinical Director for Older People and Integrated Person-Centred Care for NHS England.
Dr Dawn Moody is a GP in Derbyshire who has a special interest in frailty and person-centred systems of care. She has worked with commissioners, providers and in research in this area and holds an MSc in Geriatric Medicine. Dawn's current portfolio includes her directorship of Fusion48 being the Clinical Director for Health Education England (East Midlands) Nottinghamshire Frailty Toolkit and Training Programme. She is also Frailty Lead for the West Midlands Primary Care Workforce and Improved Patient Access Plan, Prime Minister's GP Access Fund Wave 2 Scheme.
Dawn's previous roles have included Clinical Associate (Frailty and Complex Care) at North Staffordshire CCG and Medical Director North Staffordshire Community Healthcare. She has been a Partner in General Practice for 16 years and GPSI Geriatric Medicine and intermediate care.