Posts by Dr Emma Tiffin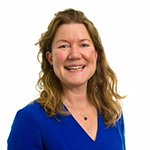 Dr Emma Tiffin has worked in mental health clinical leadership roles for over 15 years. Most recently she has focused on developing a sustainable integrated community-based service model for planned and unplanned mental health care. The model includes a First Response Crisis Mental Health Service with local sanctuaries and a Primary Service for Mental Health (PRISM) which brings together specialist mental health (including IAPT), primary care and community services. She is a national adviser for the NICE programme of work developing a national community mental health pathway.
Dr Tiffin is a practising GP in Peterborough and has a weekly radio show, Health Matters, on BBC Radio Cambridgeshire. In 2016 she was awarded Health Education England's East of England Leadership Award for Service Improvement and Innovation. The First Response Service won the Positive Practice Mental Health Award for acute/crisis care last October and in November Dr Tiffin was a runner-up for GP of the Year at the General Practice Awards. She was awarded Healthcare Leader of the Year at the 2017 national GP awards.