Posts by Dr Ilan Ben-Zion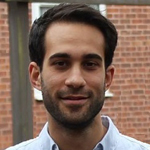 Ilan is a Clinical Psychologist working at St Pancras Rehabilitation Unit – Inpatient Wards and Hertfordshire Neurological Service – Community team – Outpatients
I feel very privileged to be able to say I love what I do and always have, ever since I started volunteering for ChildLine in 2007. Following this, I've had experience working with a wide variety of individuals including children, young people, adults, older adults, military personnel, individuals with learning disabilities, neurodevelopmental disorders and neurological conditions.
Currently, I'm based across two teams, one at St Pancras Rehabilitation Unit, where we support individuals to recover from various difficulties from strokes and brain injuries, to falls and occasionally unknown conditions. In my other post, I work at Hertfordshire Neurological Service where we see individuals as outpatients in order to support them with a variety of neurological conditions such as Multiple Sclerosis, Parkinson's Disease and strokes.
I am passionate about mental health, as this something we all share and an area where there is real potential to make a positive impact in the world. I hope the #ihavementalhealthcampaign will contribute towards helping people better understand this part of themselves.