Posts by Dr Jim Moore FRCP Edin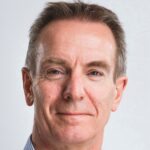 Dr Moore is currently President of the Primary Care Cardiovascular Society.
He studied medicine in Edinburgh before moving to Gloucestershire to work as a GP principal. He has an interest in cardiology and cardiovascular disease, particularly those aspects that are relevant to primary care.
Dr Moore was involved in the development of the community-based Gloucestershire Heart Failure service where he continues to work as a GP with a special interest (GPwSI).
He was a member of The National Institute for Health and Care Excellence (NICE) Chronic Heart Failure Guideline committee (2018), was on the Board of the British Society for Heart Failure (from 2008 until recently) and is a member of the National Heart Failure Audit Domain Expert Group.
He has provided cardiovascular clinical support to local commissioning organisations over two decades and more recently to emerging cardiac networks in the South-West. He is a Clinical Lead for the National Cardiac Pathways Implementation Programme and provides support for the National Cardiovascular Prevention Programme.
Dr Moore is the Primary Care Lead for the West of England Integrated Cardiac Clinical Network.