Posts by Dr Karen Deeny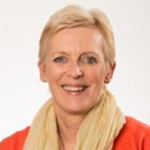 Dr Karen Deeny works in the national Patient Experience Team and is leading a work programme to drive improved outcomes and experiences for patients through improving staff experiences of care.
With a clinical background in speech and language therapy and an enduring passion for improvement, Karen has worked as a clinician, manager, researcher, author and coach in health, education and social care.
Karen's doctoral research involved working with members of more than 200 healthcare teams to understand theirs and their patients' journeys and using this learning to drive improvement through experience based co-design in the UK and internationally.