Posts by Dr Kilali Ominu-Evbota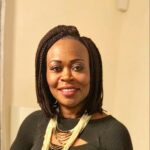 Dr Kilali Ominu-Evbota is Consultant paediatrician with special interest in haematology, Oncology and Allergy. She did her specialist training at Royal London Hospital, Great Ormond Street hospital and other hospitals across London. She has over 15 years of paediatric experience.
She is an expert in paediatric conditions with a special interest in 'lumps and bumps', haematology – Sickle cell anaemia, Oncology and Allergy. She has a keen interest in medical law and recently completed a masters degree in medical law and ethics.
She is the Paediatric governance lead at Basildon hospital, Mid and South Essex NHS trust and the Co-lead of the Paediatric Haematology Oncology service. She is also a Medical examiner for the trust. Apart from looking after patients she is passionate about teaching.
She loves a morning jog, enjoys singing and is part of a gospel choir. She is a loving mother to a twin boy and girl.