Posts by Dr Margaret Charleroy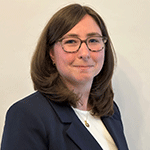 Dr Margaret Charleroy is the Head of Strategy at the NHS England Centre for Improving Data Collaboration (CIDC), leading strategy and policy development to shape digital and data-driven innovation across the NHS that ensures the greatest benefits for citizens, patients, and workforce across the health sector.
Prior to joining the Centre, Margaret held senior strategy roles in the public sector, including UK Research and Innovation (UKRI), where she led her council research and policy response to the covid-19 pandemic. She has held academic positions at universities in the United States and United Kingdom, focusing a research career on data management and evidence-based care to improve health outcomes in criminal justice settings.