Posts by Dr Matthew Jolly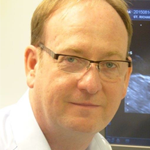 Dr Matthew Jolly is National Clinical Director for the Maternity Review and Women's Health, NHS England, taking up the role in October 2015.
He is an experienced clinician who is committed to providing excellent individual care and to the strategic improvement of maternity services and women's health.
Matthew qualified at St. Mary's Hospital Medical School and trained as an obstetrician and gynaecologist in the North West Thames region, including two years researching the role of maternal metabolism in fetal growth at Imperial College School of Medicine.
He trained as a sub specialist in maternal and fetal medicine at the Centre for Fetal Care, Queen Charlotte's & Chelsea Hospital. Since 2001 he has worked as a consultant obstetrician and gynaecologist at Western Sussex Hospitals NHS Trust and Portsmouth Hospitals NHS Trust.
He has in the past worked as a departmental clinical director and as joint clinical director for The Maternity Children and Young People South East Coast Strategic Clinical Network.