Posts by Dr Mo Dewji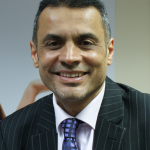 Dr Mo Dewji is a partner and trainer in a ten-doctor urban practice in Milton Keynes.
He was the PCG and then PEC chair of MKPCT prior to his appointment as the Head of the National PMS Development Team.
He was then appointed as the Clinical Director for Strategy and System Reform at South Central SHA.
He is now the National Clinical Lead (Primary Care) within the Medical Directorate of the NHS England, where he has been advising on the support of the Friends and Family Test in General Practice.
He has also acted as the clinical lead in the benchmarking of care across health systems and the active use of data to develop and deliver high quality care.
Between his work at the SHA and his recent move to the NHS England he headed the Primary Care QIPP Workstream at the Department of Health.
He has been actively involved in the development of new commissioning models supporting CCG's and practices, and acted as an advisor to the development of the Diabetes NSF and was one of the founder members of the National Resource Framework Group.
His clinical interests lie in Paediatrics and GP Training.