Posts by Dr Penny Newman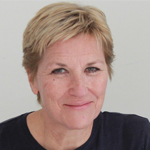 Dr Penny Newman is an NHS England NHS Innovation Accelerator Fellow (NIA) and former community Trust Medical Director, Director of Public Health and GP.
Her work on health coach training was first developed in Suffolk with psychologist and coach, Dr Andrew McDowell, initially funded by a Regional Innovation Fund and Health Education England, and subsequently selected onto the NIA programme.
The NIA is an NHS England initiative delivered in partnership with the country's 15 Academic Health Science Networks (AHSNs), hosted by UCLPartners. It supports delivery of the Five Year Forward View by accelerating uptake of high impact innovations for patient, population and NHS staff benefit, and providing real time practical insights on spread to inform national strategy. For more information visit www.nhsaccelerator.com
Penny has worked across the NHS and all sectors on pathway redesign, workforce and new models of care, is an executive coach and has published seminal reports on gender equality, most recently with UN Women.