Posts by Dr Sam Hare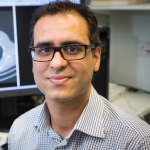 Dr Sam Hare is a consultant chest radiologist at Barnet Hospital, which is part of the Royal Free London NHS Foundation Trust. He is also one of the lead radiologists for the London Cancer lung pathway board, responsible for improving regional lung cancer outcomes and patient experience.
Sam studied medicine at Fitzwilliam College, University of Cambridge and Imperial College School of Medicine, gaining a 1st class honours degree.
After completing formal radiology training in the UK between 2004-2009 he undertook a thoracic radiology fellowship in North America (2009-2010). Sam was subsequently appointed to the position of consultant thoracic radiologist at The Ottawa Hospital in Canada specialising in: (i) complex lung biopsy techniques and (ii) lung cancer screening & diagnosis. He returned to the UK NHS in 2011 and currently runs the innovative ambulatory lung biopsy service at the Royal Free London NHS Trust.
Dr Hare's technical lung biopsy expertise has been acknowledged as providing earlier lung cancer diagnosis in a wider range of patients. The novel ambulatory lung biopsy service was awarded the inaugural NHS Innovation Challenge Prize for Cancer Care in 2016 in addition to the 2016 BMJ Award for Cancer Care Team of the Year (sponsored by Macmillan Cancer). Sam's work has also gained national recognition in Thorax, one of the world's leading respiratory medicine journals, as well as in the Times newspaper and BBC news (August 2015).
Sam is currently focused on leading wider NHS adoption of 'ambulatory lung biopsy' and is working closely with NHS England to achieve this. As part of this ambition, he has established a national lung biopsy education course (POBAS) that will train clinicians from other hospitals to use the innovative technique. For more details please visit www.POBAS.co.uk