Posts by Dr Waheed Arian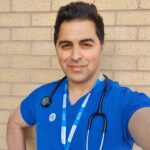 Dr Waheed Arian is an emergency medicine doctor based in Chester.
He has been recognised with several awards for his innovation and humanitarian work, including awards from the United Nations, UNESCO and UK Prime Minister.
You can read his story in his autobiography, In The Wars and find out more about his global and mental health work, Arian Teleheal and Arian Wellbeing at www.drwaheedarian.com.