Posts by Ellen Devine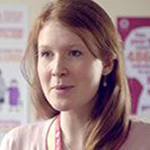 Ellen Devine is a Training Officer for the National Osteoporosis Society and has worked in the health and social care charity sector since 2008 including roles with the British Red Cross and The Care Forum.
In her free time she enjoys running and is a run director at Chipping Sodbury parkrun. Ellen believes that patients should be at the heart of decisions about their own care and advocates for patient leadership in the development of health and social care services.