Posts by Emily Hough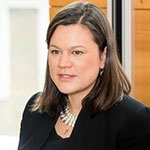 Emily joined NHS England's Strategy Group in 2014, taking over as Director of the Group in July 2017. The Strategy Group is focused on supporting the strategic priorities and sustainability of the NHS and was instrumental in the development of the NHS Long term Plan. Emily has overseen programmes including Healthy New Towns, Health and Work and the NHS as an anchor institution. She has also led strategy contributions to a wide range of projects from the specification for Rapid Diagnostic Centers to plans for improving autism diagnosis and support.
Emily's previous NHS experience includes supporting a major service reconfiguration in North Central London, advising the first Trust Special Administrator appointed to an NHS Trust in South East London, developing a Commissioning Support Unit's Strategy and Transformation practice and supporting the development of London's Clinical Commissioning Groups. Prior to joining the NHS Emily was a management consultant, specialising in strategy.