Posts by Felicity Smith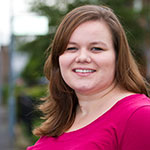 Felicity Smith is the National Co-ordinator for FaithAction – a national network of faith-based and community organisations.
She has a strong input into strategic development and oversees programmes and contracts delivered by the FaithAction network.
Felicity has worked on FaithAction's Health and Social Care work since 2009, and as representative for the VCSE Health and Wellbeing Alliance.
She has been a member of the Steering Group for Health and Care Innovation Expo for the last two years, ensuring the voluntary sector has representation across all the different elements of the event.