Posts by Fiona Carragher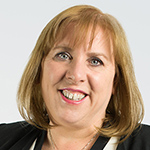 Fiona Carragher is the Deputy Chief Scientific Officer for England, supporting the head of profession for the 50,000 healthcare science workforce in the NHS and associated bodies – embracing more than 50 separate scientific specialisms. A Consultant Clinical Biochemist by background, Fiona has a broad portfolio of policy responsibilities, providing professional leadership and expert clinical advice across the health and care system as well as working with senior clinical leaders within both the NHS England and the wider NHS.
Fiona has a strong background in both public health and treatment & care, having led and worked in multi-professional teams for two decades at Guy's & St Thomas' Hospital, the Royal Hospital for Sick Children, Edinburgh and Kings College Hospital, London – with a focus on providing high quality, innovative laboratory services. More recently she led a number of specialised laboratories for the diagnosis and monitoring of inherited metabolic disease and was Director of Newborn Screening for the South East Thames Region.
She has led a number of broader healthcare science projects including technology adoption and leadership development, and created a proactive scientific and diagnostics network across London that supports quality improvement and effective commissioning.