Posts by Garrett Emmerson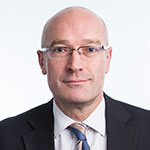 Chief Executive of the London Ambulance Service.
Garrett joined the London Ambulance Service as Chief Executive in May 2017 at a time when the service was in special measures. Driving forward the change needed to help the organisation become a primary integrator of urgent and emergency care in London, the Service was rated 'good' by the Care Quality Commission and subsequently came out of special measures in May 2018.
Prior to joining the London Ambulance Service, Garrett was at Transport for London as Chief Operating Officer for Surface Transport for eight years. In this role, he had overall responsibility for TfL's road management including strategy and planning and the operation of the capital's major road network. Before Transport for London, he was the director of a transport consultancy.