Posts by Gisele Marinho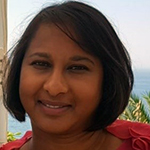 Gisele Marinho is a clinical psychologist with the Redbridge IAPT service in North East London where she has worked since 2011.
She hails from Portugal, but was born in Beira, Mozambique and is of Indian Goan descent, coming to the UK in 1994 and living in London ever since.
Gisele started working in mental health in the NHS as a Nursing Assistant in an acute psychiatric ward in 2003. From 2003 – 2004 she was an assistant psychologist in a rehabilitation unit for people with severe and enduring mental health problems, before becoming a graduate primary care mental health worker. From 2007 she worked for three years as a trainee clinical psychologist before becoming a clinical psychologist. She worked as a clinical psychologist in 2010-11 in two community recovery teams in Redbridge providing psychological assessments and therapy to clients with severe and complex mental health difficulties and working in a multidisciplinary team.