Posts by Hope Gorton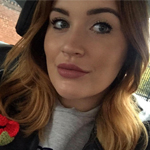 Hope Gorton is a 27-year-old Digital Marketing Manager working in the advertising industry. As a member of The Reporters' Academy, she has worked with the NHS Youth Forum to teach young people valuable media skills. She recently attended the NHS Youth Voice Summit to discuss young people's mental health.
Diagnosed with Irritable bowel syndrome (IBS) in 2015, Hope has experienced first-hand the impact of social media on body image and mental health. She contributed to blogs to raise awareness of the condition – her latest work includes a very honest 'letter to my gut' which highlights her personal journey towards accepting her body.