Posts by Ian Callaghan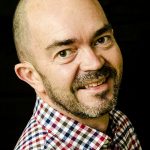 Ian Callaghan is the Recovery and Secure Care Manager at the national mental health charity Rethink Mental Illness, where he delivers a national network of involvement groups for people in secure mental health services called Recovery and Outcomes.
Ian is also a Patient and Public Voice partner with the NHS England Adult Secure Clinical Reference Group. Ian was the Rethink Mental Illness Member of the Year in 2012 and in February 2015 was awarded the Deputy Prime Minister's Mental Health Hero Award in recognition of his role with Recovery and Outcomes.
Ian was also recognised as one of the top 50 Patient Leaders by the Health Services Journal in July 2015.