Posts by Jackie Fleeman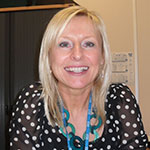 Jackie Fleeman was one of the first learning disability strategic health facilitators in England.
She works in Derbyshire and leads a small team who support GP practices with annual health checks and manages the learning disability acute liaison nurse at Derby Acute Hospital. The team employs three people with a learning disability to support their work with primary care.
Jackie is a LeDer reviewer and has recently completed a project to increase the uptake of screening.