Posts by James Sanderson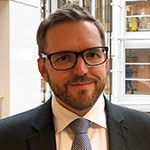 James Sanderson is the Director of Personalised Care at NHS England and NHS Improvement where he leads on a range of programmes that are supporting people to have greater choice and control over their health and wellbeing. James also became the CEO to the National Academy for Social Prescribing (NASP) in 2019 where James leads on creating partnerships, across the arts, health, sports, leisure, and the natural environment, alongside other aspects of our lives, to promote health and wellbeing at a national and local level. View the NASP strategy.
James joined NHS England in November 2015 and was formerly the Chief Executive and Accounting Officer for the Independent Living Fund (ILF). The ILF was an arm's length body of the DWP and supported disabled people across the whole of the UK to live independent lives through the provision of direct payments enabling the purchase of personal assistance support.
Prior to joining the ILF in 2002, James had a career in the motor industry within a number of sales and marketing roles, in both corporate and retail environments. James is a performing arts graduate with a background in community theatre.