Posts by Jane Ramsay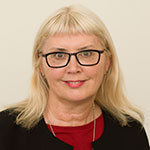 Jane Ramsay is Chair of the Children and Young People Steering Group at NHS England and also Chair of the Young Epilepsy Charity, which is a national body working to support 112,000 children and young people with epilepsy.
She is also a member of the Committee on Standards in Public Life which advises the Prime Minister on ethical standards across the whole of public life in the UK.
Jane has a wealth of experience from both the NHS, including Chair of Cambridge University Hospitals NHS Foundation Trust, a primary care trust and local government where she was a senior lawyer for many years.