Posts by Jeff Johnston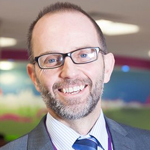 Jeff Johnston, Associate Director of Operations at Liverpool Women's NHS Foundation Trust, joined the Trust in December 2005 as the Assistant Director of Finance before moving into operational management in 2009, and has held a number of senior management roles including Divisional Manager, managing all the divisional services within the Trust.
Jeff became the Associate Director of Operations in September 2014.
Prior to joining the Trust Jeff held a number of senior positions in both the NHS and other public sector organisations.
He led the successful Acute Care Collaborations Vanguard application in 2015 and continues to work with the programme team to develop new care models.