Posts by Jeremy Isaacs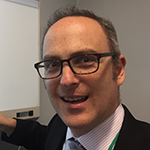 Jeremy Isaacs is a consultant neurologist at St George's and Kingston Hospitals and is dementia clinical lead at St George's Hospital. He studied medicine at Cambridge and UCL; his PhD was on the immunology of Creutzfeldt-Jakob disease (CJD).
Jeremy has a specialist interest in cognitive neurology and dementia. He runs a multi-disciplinary cognitive neurology service at St George's Hospital offering diagnosis, treatment and support for all types of cognitive disorder, including young-onset and atypical dementias. He has developed a pioneering support group for people living with young onset dementia. He is currently working with the London Dementia Clinical Network to support memory services in reducing waiting times for assessment and diagnosis.
Jeremy is a member of the NICE dementia clinical guideline (update) committee. He is co-authoring the chapter on Memory Disorders and Dementia for the forthcoming Oxford Textbook of Neuropsychiatry. He has published on clinical and molecular aspects of neurological disorders, prion biology and the history of medicine. He has research interests in clinical trials in Alzheimer's disease and other dementias, repurposing of drugs for dementia and delirium and the neuropsychology of functional cognitive disorders.