Posts by Baroness Julia Cumberlege, CBE DL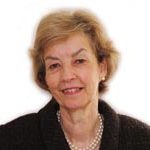 Baroness Julia Cumberlege CBE DL was appointed a Junior Health Minister in 1992 and for five years she covered all Health and Social Services matters in the House of Lords.
She has been commissioned by two Governments to produce two national reports: "Neighbourhood Nursing – a Focus for Care" and "Changing Childbirth".
At the invitation of the Royal College of Physicians, Julia has chaired two working parties. The first report "Doctors in Society" was published in December 2005. The second, "Future Physician, Changing Doctors in Changing Times", was published in May 2010.
From 2000 until July 2006, Julia chaired St George's Medical School.