Posts by Kate Chartres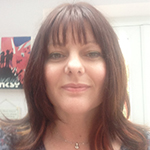 Kate Chartres is a registered Mental Health Nurse with around 18 years post-qualification experience.
As the Nurse Consultant at Sunderland Psychiatric Liaison Team, she has provided clinical practice and professional leadership for the nursing team, research, training and development. The service has been accredited by the RCP with excellence (PLAN).
Previously, she worked for nine years within crisis services, Primary Care, EIP and Clinical Management of the Psychiatric Liaison Teams within NTW.