Posts by Katie Ratcliffe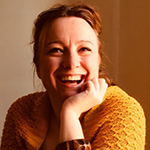 Katie Ratcliffe is a health policy and programme manager, with 12 years' experience in central government roles in the UK, South East Asia, and the Middle East.
Completing her Masters in Health Policy from Imperial College in 2012, she has brought to the Maternity and Women's' Health team in NHS England a combination of programme management skills and broad policy knowledge which is supporting the transformation of maternity services across England.
In her spare time, Katie is a keen traveller, follows politics and social affairs and enjoys swimming and Pilates.