Posts by Kevin Parry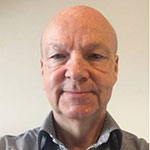 Kevin Parry is a Programme Director at NHS Digital and specialises in portfolio risk and assurance on digital transformation and data programmes.
He has worked in both private and public sector roles leading teams to deliver or advise on transformation at scale. He is a fellow of APM, the chartered body for project professionals, an Oxford University Business Alumnus and a guest lecturer at the University of Manchester on the MSc course in Management of Projects.
Kevin is passionate about NHS technology making a positive difference to social care and health outcomes, as well as improving the working lives of health and care professionals through better information and data.