Posts by Kevin Shergold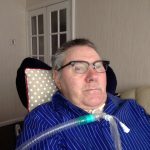 Kevin Shergold has had a long and varied career working in nursing, education and IT, and still keeps busy in Worcestershire as a disability consultant.
He has the degenerative condition Cervical Myelopathy, which means he is now quadriplegic and requires permanent ventilation. He passionately believes that life can still be lived to the full, despite his disability.