Posts by Kirsty McHugh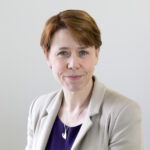 Kirsty McHugh is Chief Executive Officer of the Carer's Trust. She joined the trust in February 2022.
With extensive experience of working in the voluntary sector in a variety of public affairs and delivery roles, Kirsty has a deep commitment to improving the life opportunities of those from disadvantaged communities.
Before joining Carers Trust, she had 11 years' experience as Chief Executive Officer of the Mayor's Fund for London and the Employment Related Services Association. Before that Kirsty served as a director at Business in the Community, where she led community programmes across England and Wales.
She is a non-executive director of Gateway Housing Association in East London and has served as a panel member for the National Lottery's Building Better Opportunities Fund.
Kirsty also has first-hand experience of what it means to be an unpaid carer. She has cared for a close family member approaching end of life, and for another with a long-term disability.