Posts by Kye Gbangbola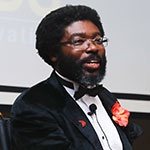 Kye Gbangbola is Chair of the Sickle Cell Society, a national health care charity for the world's most common blood disorder.
He wrote the Foreword to the Sickle Cell Care Standards recently launched in Parliament and gave a Parliamentary address, as a call to action for medical professionals and patients, to use the Standard as essential intelligence for better health care.
Kye is an NHS PPV member for the NHS Programme of Care Board for Blood and Infections and the NHS Public and Patient Voice Assurance Group. He was formerly a member of the NHS England Clinical Referencing Group for Haemoglobinopathies. He is an NHS England Care Quality Peer Reviewer and an NHS England Information Standard Auditor.
Kye is also an All Party Parliamentary Group Member for Sickle Cell and Thalassaemia at which he gave a talk on Hydroxyurea, and a more recent talk on access, equality and change. He has been involved in a PPV capacity in clinical trials, scientific advice, and medicines development including NICE, the European Medical Agency, 100,000 Genome project etc.
He has experience of providing a patients perspective from the 70's when he would speak to clinicians about suffering from SCD, and more recently collaborated with Ambulance Services for the development and training of key staff, and very importantly improving the service the LAS provides.