Posts by Matthew Swindells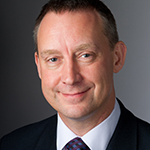 Matthew Swindells is NHS England's National Director: Operations and Information.
He joined NHS England in May 2016 from the Cerner Group and his role as Senior Vice President for Population Health and Global Strategy.
Matthew is responsible for national performance of the NHS against the NHS Constitution Standards, assurance of Clinical Commissioning Groups, achieving a paperless NHS, information and technology programmes and investment in data.
He has over 25 years' experience in health care services and has worked in the Department of Health as a Chief Information Officer and as a Senior Policy Advisor to the Secretary of State for Health. Prior to this he served as a Principal Adviser in the Prime Minister's Office of Public Service Reform.
Matthew began his career at Guys and St Thomas' Hospital in the early 1990s, and went on to become Director of Clinical Services of Heatherwood and Wexham Park Hospital and later Chief Executive of the Royal Surrey County Hospital, in the early 2000s.
He is visiting professor and chair of the advisory committee in the School of Health Management at the University of Surrey and Member of the Editorial Board for the Journal of Population Health Management.