Posts by Michaela Firth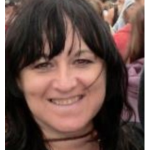 Michaela's career started in Milton Keynes Hospital Pathology lab when it opened in 1984. She studied biochemistry and worked in both private and NHS laboratories before taking up roles in customer service, sales and marketing, during which time she gained post-graduate qualifications in marketing and public relations.
Since rejoining the NHS in 2000 Michaela has held various roles from PCTs, to Dept. of Health, including Communications Manager for NHS Direct, Assistant Director for Southern National Primary Care Development Team supporting PCTs with quality improvement and facilitating change. She programme managed for the South Central PCT Alliance including work to determine behaviours of patients utilising urgent care services. She also lectures and trains in social marketing and has contributed to key documents for the Department of Health and the National Social Marketing Centre.
During a secondment to the Department of Health as a National Coach, she worked with Sir John Oldham, supporting NHS QIPP Long Term Conditions and Urgent Care programmes.
Her current role is in NHS England for the Thames Valley SCN, allowing her to capitalise on her networking passion and develop the network for change and improvement in the area of Children and Maternity services – subjects both very close to her heart.
She is closely involved in spreading the messages of NHS Change Day 2014 having been part of the core team for the first NHS Change Day last year.