Posts by Neil Davies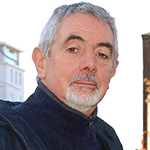 Neil Davies was thrown out of secondary modern school at the age of 14, with a certificate stating this boy has left school with no qualifications. Neil joined the Parachute Regiment on his 17th birthday and by the age of 19 he'd served on active service tours in the Middle East and North Africa.
Neil left the army with physical injuries and PTSD, and flitted aimlessly from country to country, continent to continent, and job to job; as a logger, steelworker, working on fishing boats, building worker, rank and file union organiser, out-door pursuits instructor and lecturer.
Neil broke into the film industry as a driver and worked his way up, covering all jobs and eventually became an award winning filmmaker; best documentary of the year award for 'Raw Spice' – ITV and the huge success of the series; 'Nights at the Empire' – Channel Four, 'Inside RAF Brize Norton' – Sky One, 'The Hunt' – BBC and feature film 'Dog City'.
Neil is a member of the Soldiers Arts Academy, does volunteer work at the London Veterans Mental Health Transition, Intervention and Liaison Service (TILS) at St Pancras Hospital and over the last few years scratched an itch for doing stand-up comedy, acting at Shakespeare's Globe and writing fiction, Falling Soldiers, which was published in April 2019.