Posts by Nick Hartshorne-Evans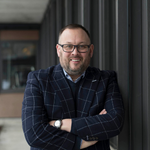 Nick Hartshorne-Evans was diagnosed with Heart Failure in January 2010 at 39. His experience as a patient stimulated him into developing the only dedicated patient-led Heart Failure charity in the UK, the Pumping Marvellous Foundation.
After significant learning about not only the condition but also the health system, Nick narrowed his focus to developing and evolving a charity that delivered patient-led solutions developed by the patients themselves. The charities knowledge and value comes from the beneficiaries and is a valuable resource to health economies and has attracted international exposure. Recruiting driven and innovative beneficiaries is a key driver for the foundation. Developing solutions from the needs of patients rather than thinking what the patient needs is a powerful stakeholder position. The Pumping Marvellous Foundation manages the world's largest online community of heart failure patients through their innovative and rich data communities. This is where the charity gains insights, using it to influence policy decisions.
Nick regularly engages and involves himself in both Global, European, National and Regional patient advocacy along with delivering patient-led collaborative solutions at a local level.
Nick is regularly consulted on the "patient opinion" both by key stakeholders and at conferences. His peers and partners across health channels see him as a "key opinion leader".