Posts by Nikky Hill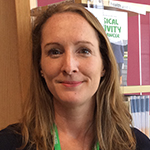 Nikky Hill qualified as an Occupational Therapist in 1998 after completing her degree at Brunel University.
She started her career in Surrey and London and has always worked in the acute hospital setting.
For the past 14 years she has worked at Calderdale & Huddersfield NHS Foundation Trust.
In April 2019, she moved into her new role as Macmillan Prehabilitation Project Manager to look at the feasibility of developing and delivering a model of prehabilitation with the aim of improving patient's health and wellbeing before, during and after primary cancer treatment.