Posts by Oli Mansell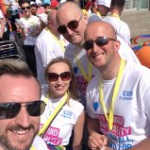 Oli Mansell (far right) is Policy Coordinator in the Policy Support Unit team, based in the Commissioning Strategy Directorate.
He serves as the inaugural co-chair of the LGBT+ Staff Network alongside Siobhán Clibbens.
Prior to joining NHS England, he spent seven years as a higher education administrator and manager for the University of Leeds. Oli has been a volunteer member of a patient assurance group at Leeds North CCG, and is currently volunteering once a week at the A&E of St James's Hospital in Leeds.