Posts by Pardeep Virdi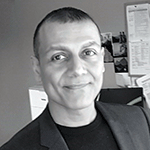 Pardeep Virdi is a high intensity therapist working in Redbridge Improving Access to Psychological Therapies (IAPT) service in Essex.
He began his career as a teacher in 1992 before starting to train part time in mental health and stress management in 1999.
From 2009 – 2011 he studied part-time for an MSc in Applied Positive psychology, and in 2012 – 2014 for an MSc in Rational Emotive and Cognitive Behavioural therapy.
Pardeep worked voluntarily for mental health charities to gain experience in mental health before in 2015 securing role as high intensity therapist via KSA route at Redbridge IAPT service and started working towards BABCP accreditation which he gained in 2018.
He says his career highlights always include seeing people become the best versions of themselves, whether this is a teacher delivering an outstanding lesson, a student gaining the grades they need for the next stage of their career or a service user who has overcome their emotional challenges.