Posts by Paul Breckell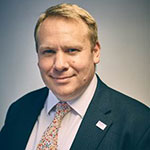 Paul Breckell is the Chief Executive of Action on Hearing Loss.
He has been in this position since August 2012 and has worked for the charity since July 2007. Action on Hearing Loss is the new name for RNID; the charity working for a world where hearing loss doesn't limit or label people, where tinnitus is silenced and where people value and look after their hearing.
Prior to this, Paul was the Finance and Corporate Services Director of the Church Mission Society for seven years and the Head of Finance at the HIV/AIDS healthcare charity Mildmay for three years. He is a chartered public finance accountant (CIPFA), having trained whilst working with the Audit Commission. Paul is a past Chair of the CIPFA Voluntary Sector Panel and a past member of CIPFA Council.
Paul is a Trustee of the Roffey Park Institute, a Commissioner on the ILC Commission on Hearing Loss and the Chair of the NHS England Working Group on the Early Diagnosis of Hearing Loss. Paul a former Chair of the Disability Charities Consortium and the Charity Finance Group. He writes and speaks on a number of topics in relation to hearing loss and disability as well as on leadership, organisational development, governance and finance in the 'beyond profit' sector.
He was named one of Cityweath Magazine's top 10 charity Chief Executives of 2016.