Posts by Pete Crane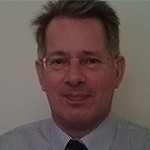 Pete is a 63 year old grandad who is now retired following many years working as a bank cashier.
Pete is married to Wendy and together they have raised son and daughter Nick and Sarah – both Nick and Sarah have good lives, friends, jobs and mortgages – but Nick has been profoundly learning disabled since birth.
Pete has always regarded both his children as having equal civil rights – equal needs for love and respect – and being equally important to him.
Pete would always 'swap the labels' in order to work out what a good life should look like – for example "would I put my 6 year old daughter alone on a bus and send her 20 miles away each day to school ? – no ! – so why would I do that to my son Nick – therefore he should go to a local school like his sister would."
As Nick's parents for 35 years, Pete and Wendy have been involved in many ways with the positive changes that have been taking place in civil society for people with a learning disability – most notably Pete was the chair of the national charity IPSEA for many years and in this role gave evidence to both the House of Lords and the House of Commons on various disability related matters.
Following the events at Winterbourne View, Pete was involved as an 'expert by experience' in the Care Quality Commission inspections of Assessment and Treatment Centres for people with a learning disability and/or autism.
Recently Pete has been working as an 'expert by experience' involved in the NHS CTR program – this is managed and enabled by NWTDT (North West Training and Development Team) / Pathways, an organisation based in Accrington that has various networks and work streams all designed to improve the lives of people and families living with learning disability and/or autism. Pathways is working hard to capture and share the knowledge that self-advocates, families and professionals all have in order to enable civil society to welcome and include people with learning disabilities and/or autism – and at the same time allow us all to benefit from the gifts and talents that everyone has.