Posts by Peter O'Reilly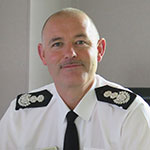 Peter O'Reilly originally joined Greater Manchester Fire and Rescue Service (GMFRS) on 1 March 2011 as Director of Prevention and Protection after serving for 21 years with Northern Ireland Fire and Rescue Service. On 1 April 2015 he was appointed to the role of County Fire Officer and Chief Executive and in June 2016 was awarded the Queens Fire Service Medal (QFSM).
He served in Belfast for most of his career as a Firefighter, Junior Officer and District Commander, before moving to Ballymena as an Assistant Area Commander. He became the Area Commander for Northern Area Command in 2009.
Currently Peter holds the Strategic Lead role for Health within the Chief Fire Officers Association (CFOA). Successes include the agreement and signing of a Joint Consensus Statement with NHS, PHE, LGA, and Age UK which has resulted in UK Fire Services delivering Safe and Well visits to those most vulnerable in communities. Separately, with the Association of Ambulance Chief Executives (AACE), he has signed a similar statement aligning the strategic intent for support to emergency medical incidents.
Since joining Greater Manchester Fire and Rescue Service Peter has overseen the complete restructuring of the Prevention and Protection Directorate and aligned the Service with the Public Service Reform agenda in Greater Manchester. On 15 September 2015 Peter lead GMFRS to become the first Fire Service in the United Kingdom to assist its local ambulance service, by making available all of its firefighters, in responding to cardiac arrests.