Posts by Poppy Brooks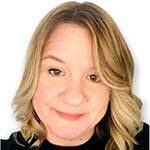 Poppy is the Lead Nurse for Cardiac Support Services at Royal Devon University Healthcare NHS Foundation Trust (Northern services). Poppy practices as a Heart Failure Specialist Nurse in an integrated heart failure service, covering both in-patient and community care.
Poppy has worked in cardiology for 20 years, initially on the coronary care unit at Southampton General Hospital, before moving to North Devon to specialise in heart failure in 2015. Poppy has completed specialist post registration education at Masters level and is a non-medical prescriber.
Poppy is Chair of the British Society for Heart Failure (BSH) Nurse Forum and also volunteers on the BSH policy and media committee. Poppy has written articles and editorials both independently and on behalf of the BSH. She previously represented the BSH on the Editorial Board of the British Journal of Cardiac Nursing.
Poppy is passionate about highlighting the essential role of the heart failure nurse specialist (HFSN), particularly the urgent need to grow the specialist workforce in heart failure and meet the needs of this complex group of patients.