Posts by Prerana Issar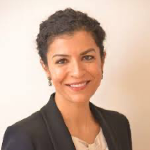 Prerana Issar is the first NHS Chief People Officer. In joining the NHS, Prerana brings a wealth of expertise in leadership development and strategic talent management, as well as diversity and inclusion.
Prior to joining the NHS Prerana was Director for Public-Private Partnerships at the United Nations and prior to that she was the Chief Human Resources Officer for the World Food Programme. During this time leading the development of the United Nation's first strategic human capital approach, as well as the reform of many key policies. Before the United Nations, Prerana worked for over 15 years at Unilever Plc, starting with them in India and then for several years was in global roles at Unilever's headquarters in London. Her last role in Unilever was Vice-President HR for the Global Foods business.
Prerana gets her strong service ethos from her parents who were both in public service in the Government of India for close to 40 years. A proud mother to a teenage son and a younger daughter she says they keep her grounded with timely performance feedback on a variety of topics. One of the happiest days of her life was when her daughter was born at the Royal Free hospital in London, giving her first-hand experience of the NHS staff who every day deliver outstanding care to patients.