Posts by Professor Chris Harrison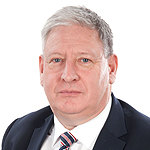 Professor Chris Harrison is NHS England's National Clinical Director for Cancer and he is Medical Director (Strategy) for The Christie NHS Foundation Trust in Manchester.
He qualified in Medicine from Manchester and, following experience in both hospital medicine and primary care, trained in epidemiology and public health.
Chris held a series of Director of Public Health Posts in Lancashire before becoming Cancer Director for the North West Region in 2000, and then Medical Director of Greater Manchester Strategic Health Authority in 2002.
He became Executive Medical Director at The Christie from 2006 until 2013 when he moved to London becoming Medical Director at Imperial Healthcare NHS Trust before returning to Manchester in March 2016.
Between 2011 and 2013 Chris was seconded part time from his role at The Christie to be Clinical Director for Cancer to NHS London.