Posts by Professor Graham Foster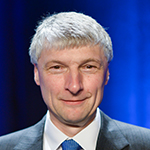 Professor Graham Foster is Professor of Hepatology at Queen Mary University of London and the clinical lead for hepatology at Barts Health.
Professor Foster was the founding President of The British Viral Hepatitis Group, a past President of the British Association for the Study of The Liver and is a trustee of the Hepatitis C Trust.
He was appointed as National Clinical Chair for the Hepatitis C Delivery Networks and NHS England's Hepatitis C (HCV) Elimination Programme in January 2016.