Posts by Professor Norman Williams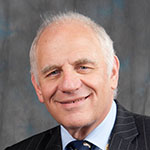 Consultant colorectal surgeon Professor Norman Williams became College President in July 2011. He is Professor of Surgery and Director of Innovation at the Academic Surgical Unit of Barts and The London, Queen Mary's School of Medicine and Dentistry and National Centre for Bowel Research and Surgical Innovation.
His main clinical interests are sphincter preservation and reconstructive surgery, and his scientific interests are concentrated on GI motility and anorectal physiology.
Professor Williams was elected as a Council Member and Trustee of the College in 2005; chaired the Research and Academic Board and the Invited Review Mechanism; and was Lead for the National Fellowship Scheme.
Prior to being elected as College President, he was President of the Society of Academic & Research Surgery and President of the Ileostomy & Internal Pouch Support Group, the national patient charity.
Professor Williams has also been Chairman of the UKCCCR committee on Colorectal Cancer, President of European Digestive Surgery, President of The International Surgical Group and Vice Chairman of The British Journal of Surgery.
Professor Williams is joint editor of Bailey and Love's Short Practice of Surgery, co-author of Surgery of the Anus, Rectum and Colon, and is a founding trustee and Chairman of Bowel & Cancer Research.
He was a Fulbright Scholar (1980-82), and was awarded the Patey Prize of the SRS (1978), the Moynihan Travelling Fellowship (1985), the Society of Authors Prize (Jointly 1995) the Nessim Habif Prize, University of Geneva (1995), the Galen Medal of the Worshipful Company of Apothecaries (2003) and the Cutler's Surgical Prize (2011).
He is a Fellow of the Academy of Medical Sciences and the Royal College of Physicians, and is an Honorary Fellow of The American Surgical Association, the German Society of General and Visceral Surgery, the American Society of Colon and Rectal Surgeons, the Brazilian College of Surgeons and the Society of General Surgeons of Peru.
In 2011 he gave the prestigious Hunterian Oration at the College, and in 2013 he will become an Honorary Fellow of the American College of Surgery.